Overview
Collecting the most stunning unique skills in Sichuan Opera, such as face-changing, fire-spitting, light-rolling, marionette, hand-shadow, puppet opera…The show in Shu Feng Ya Yun Theater is a 90-minute feast for eyes that will definitely broaden your horizons. All actors, who are top artists in China, make their efforts to illustrate comprehensively the best Sichuan opera cultures. Well worth the time!
Address: Chengdu Cultural Park, No. 132 Qintai Road, Qingyang District, Chengdu
Address in Chinese: 成都市青羊区琴台路23号(文化公园内)
Show Time: 20:00-21:30 daily
Why should you watch this show?
– Watch the magical face changing, the highlight of Sichuan Opera at a very close distance.
– Surprisingly great for both children and adults
– A Must See when you are in Chengdu: Along with Pandas and Hotpot, Sichuan Opera is one of the crown jewels of Chengdu's tourism industry.
– Feel the 300 year old tradition set within Chinese Sichuan opera.
– Shu Feng Ya Yun is one of the most famous theater in China for Sichuan Opera.
What will you experience?
– Nao Tai (for making joyous noise on stage)
– Excerpts from Sichuan Opera
– Traditional Acrobatics
– Folk Music: Huqin Solo
– Hand Shadow
– Face Changing and Fire Spitting
– Puppet opera
– Rolling Lamp
Seat Map
There are 4 kinds of different tickets for Shu Feng Ya Yun: VIP Area, A Area, B Area, C Area.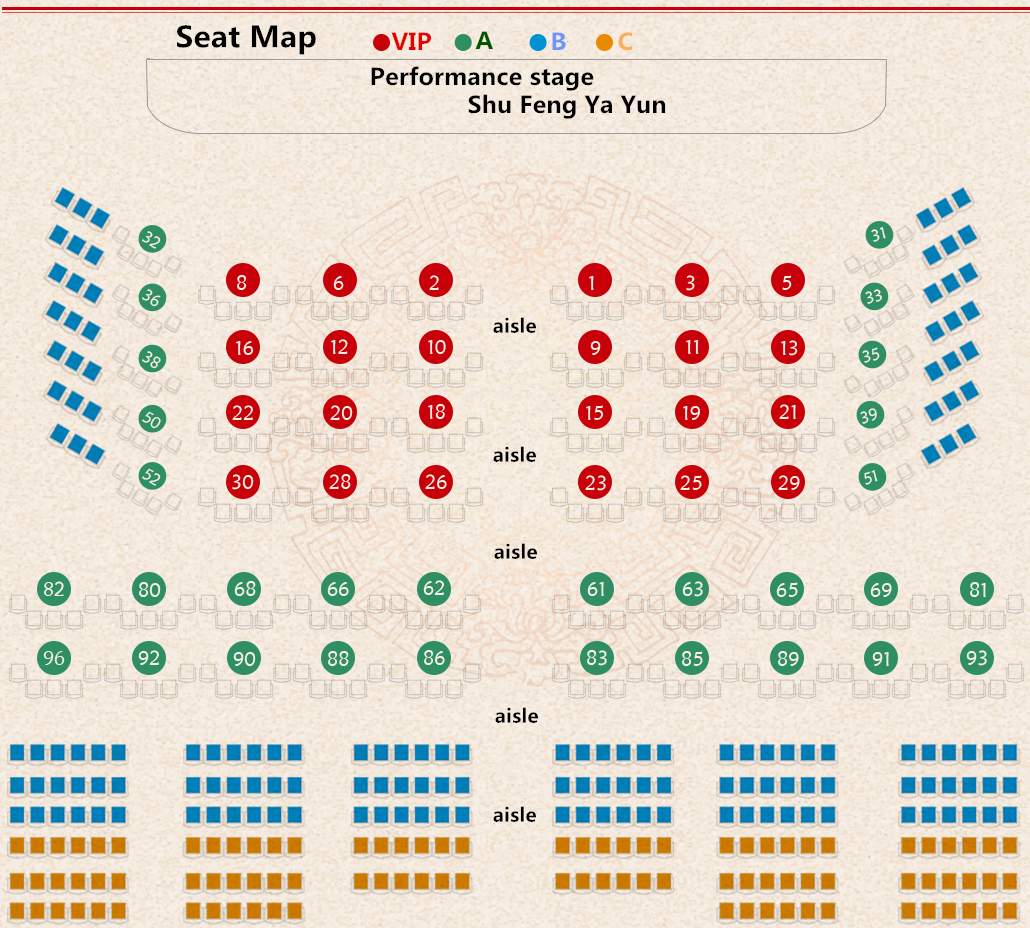 Ticket Price
| | | | | |
| --- | --- | --- | --- | --- |
| | Booking Time | The market price | Price from SichuanFun | What's included |
| VIP Area | before 18:00 | CNY320 | CNY200 | ticket+tea+peanut+massage or ear grooming or photo opportunity in opera makeup and costume |
| A-Area | before 18:00 | CNY200 | CNY150 | ticket+tea+peanut |
| B-Area | before 18:00 | CNY180 | CNY120 | ticket+tea+peanut |
| C-Area | before 18:00 | CNY120 | CNY80 | ticket+tea+peanut |
---
Quick Booking